Communication is to a corporate what flying is to a bird or what roaring is to a lion. Organizations and clients alike love to employ and work with subordinates who are good at communication.
On the contrary, bad communication may lead into teams feeling they are not rewarded in proportion to the effort put in by them. One of the main reasons behind this is the way daily activities are communicated across to the management and clients alike. Completing the work with dignity and diligence is one thing but establishing the correct communication channels for day to day activities is an essential factor which separates the brain from masses. Communication goes a long way in making or breaking trust in carrying out business.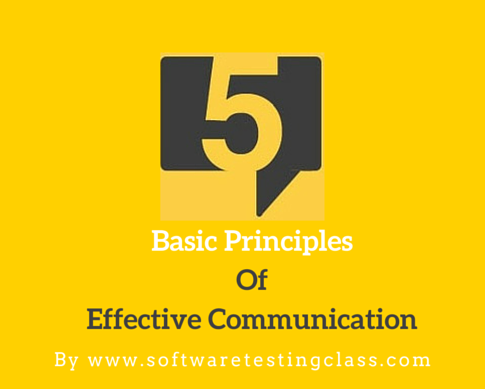 Communication is not only necessary in day to day activities. In case of a new Idea which needs time and resources to get a life and be fruitful for the organization and clients alike, proper in time and good communication might be the only obstacle to selection. Otherwise the environment is such that discussing on strategic issues are much shorted, what can we say about new ideas. According to statistics we spend barely ten percent of productive time discussing strategic issues. Within this context, new ideas have an even tougher chance of being heard and implemented. Obliviously such scenarios are not productive for organization and might result in employee's dissatisfaction which can lead to them resorting to being doers taking commands and fulfilling them within a given time. This is a very dangerous situation for any organization and needs to be avoided by imparting trainings in this area. This will help them in bringing their ideas across the table and be more efficient and fulfilling both for themselves and the organization.
Attitude Towards Others In Organization:
Companies thrive on team work. Recognizing that trust in each other can help teams achieve what is expected from them. Chances are that a team as a whole might even excel in their duties. It is the responsibility of the leads and management to nurture this kind of environment in the team by confronting the problems in the teams before they become issues. Someone has rightly said that 'Communication makes or breaks a project'. Some strategies which will definitely help in better communication are listed below:
Clear communication of Goals and Objectives.
Organize a communication plan within team with daily, weekly, monthly objectives.
Consolidate points before each meetings.
Allow everyone to contribute and listen to what is being said irrespective of speakers role
Make information readily available.
Spot Lift The Discussion Towards Your Idea:
In a formal meeting setup , there might be many ideas floating the ground. When others are putting their idea across, do not use a contradictory word or phrase, such as "but, this might fail" "no, this is not the time", or "I disagree." unless deemed absolutely necessary. Instead, we can do it a bit more insidiously by saying something like "Great idea. We could also try…" This will be an attention swirl and will definitely direct attention in your direction. This is the time to direct conversation to your idea.
Without using techniques like these you might be successful in the short run, but typically results in surfacing the idea, which fails to influence most. I hope that you must have started to see the point. Just one thing should be at the center of your idea, the plan of offering it is to serve the organization in moving it forward. This is the most important point and one which is missed quite often by individuals. This is the one main difference between ideas which are thrown back and ideas which are implemented. In order to help you achieve this you can even think as someone who constantly helps the organization and its employees to become more motivated and competitive not only because of ability to give speeches or write mails but more importantly because of their ability to identify issues, and resolve them in a neutral fashion. The focus should be equally vested between speaking and to be heard.
To be heard can be translated to speaking in front of your prospective audience in such a way that your idea have a chance to fair well. After the meeting they should go back feeling that these ideas have the power needed to influence the organization in a positive way going forward and so will be fruitful if acted upon. Once it is derived that an idea is useful for the organization and its employees, emphasis should be given on drafting your inputs in the meeting. In order for your team to be heard in such a manner, the firstly and foremost thing is to recognize the context, and draft it only after you know your audience. Then probably you can safely plan your approach strategy. You may also need to change your style slightly to communicate ideas in a way so that you connect with the needs of the business.
Five Basic Principles of Effective Communication:
Following are some recognized and renowned techniques used to be heard:
1. Ensure That Your Idea Is Relevant:
No matter how appealing or tempting your idea looks, the first and foremost thing you should check without jumping to other things is "How relevant is your idea to the organization." Collect past user experiences and draft the areas which might need improvements and common to most customers. Base your arguments on relevant quantitative data and figure out which facts matter and include them. See if you can get real customer stories and anecdotes supporting your case. Aptly backing those with facts would be an icing on the cake.
2. Frame Your Perspective:
Many will argue that you should go into a meeting with an open mind and unbiased. This is true but it does not mean that you should not research or frame your perspective. I have seen people who show up at meetings but are unable to offer a well-considered opinion. Beware, you risk being labeled a doer if you cannot offer an informed perspective on the table. This directly means that you are someone ill-suited to being a leader. I have seen situations where employers mention in their job description that they are seeking out the folks who are co-thinkers. If you want your reputation to reflect that role, then as a thumb rule come ready to meetings, and have a point of view. This will also help you in asking relevant questions.
3. Choose Your Medium:
Somewhere above I emphasized on the need of knowing your customer or audience. This is an important part of activity. The medium via which idea is communicated plays a vital role in retention of the idea in your audience mind. This is important to give a life to your idea. If you are dealing with people from finance background who value numbers, consider using lots of smart excel to present your ideas. In case you find good number of people who value graphics, consider melting your ideas in use stories that weaves together facts of importance in ways people can get lost in.
4. Why not be an anthropologist:
You must be taught to master your subjects. Why not take it one step ahead and master the audience. This is easier said than done. But, to help you there are so many tools which can be used to learning about people — what topics they track, which personalities they value, how they approach their work. Think and find out what your colleagues care the most. Their social profiles, their professional profiles, their blogs, their interests also tell a story. Observe them, and learn what excites them, and shape your idea accordingly.
5. Last But Not The Least, Always Be Passionate:
This is a quality which should come naturally to you. No one is going to spare their head over your boring bogus attitude. Believe it, people will only put money if they feel confident. This is equally important and plays a vital role in taking your ideas forward. If you explain in a way that shows you are actually in love with the idea rather than about you being right, they might just fall in love with our idea, too. Being passionate does not mean that you cast high pitch speeches or see alternate views as a hindrance. Just being clear-minded about your approach will suffice.
Conclusion:
To conclude, there might not be any set funda for communicating your ideas forth and things might vary according from person to person but if anyone reads through and approaches according to the content above, you will observe a stark difference in the way you are heard. This is the only difference between your management and colleagues considering you as a go getter or a doer.
If you enjoy reading this article related to Testing Skill Improvement, then please do share with your colleagues. You can write down your queries if any in the comment below, we will answer your queries.
Happy Testing!!