The QA leader is one who is like a co-captain of the ship who shares an equal responsibility for getting software out to the customers with high quality, on schedule and matching the expectations.
As a QA lead, there are multiple roles and responsibilities which need to be taken care of. The functional role of QA lead is to lead the quality assurance department of any industry. In today's world quality is the backbone of any commercial successful product which directly implies that the quality assurance team in any industry play a very significant role.
A QA leader has to have several feathers in his cap and play different roles in today's challenging times.
He has to ensure that his team of  QA engineers are on the right track all the way in the project, resolving conflicts across team, review the schedules and plans, mitigation of the risks, checking quality in phases, update management , build a challenging and motivation environment.
Roles And Responsibility Of QA Leader: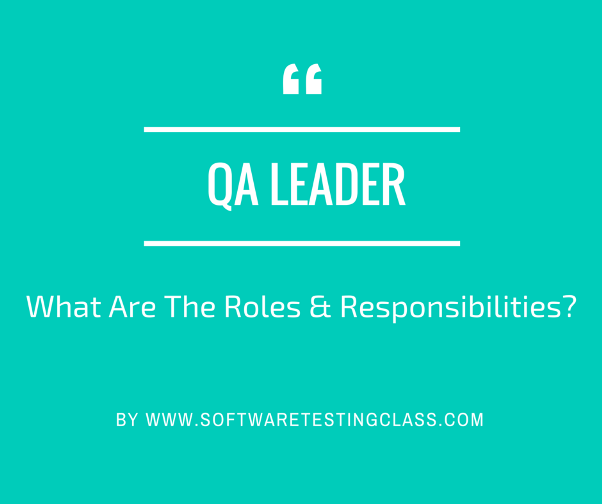 Defining Quality Metrics
Defining quality standards and metrics for the current project/product.
Working with all stake holders to ensure that the quality metrics is reviewed, closed and agreed upon.
Make the QA team aware of the Quality matrix and resolve all the queries.
Create a list of milestones and checkpoints and set measureable criteria's to check the quality on timely basis.
Defining Testing Strategies
Defining processes for test plan and several phases of testing cycle.
Planning and scheduling several milestones and tasks like alpha and beta testing.
Ensuring all development tasks meet quality criteria through test planning, test execution, quality assurance and issue tracking.
Work closely on the deadlines of the project
Ensure the team is focusing on automation along with manual testing.
Keep raising the bar and standards of all the quality processes with every project.
Set processes for test plan reviews and ensure that that test plans get reviewed by all stakeholders.
Push team continuously to innovate.
Review test strategies and see that all the various kinds of testing like unit, functional, performance, stress, acceptance etc. are getting covered.
Leadership
Set Quality standards for the teams in various new testing technologies in the industry. This may include finding new strategies for automation testing and day to day work processes like agile and scrum.
Building up a team and choosing right number and skill set of resources.
Assign various tasks to the engineers as per strength of individual.
Setting up goals and objectives for QA managers
Motivating team and taking informative quick decisions.
Finding and arranging behavioral , functional, non-functional training needs  for the team
Coordinate activities which enforce quality improvements
Resolving conflicts among team members.
Maintaining cordial relationships between cross functional teams like development, configuration management, program management, product managers etc.
Negotiating with upper management with influential skills to buy in the ideas.
Ensure that the highly motivated environment is creating in the team.
Ensure that Rewards are given for each achievement in the team.
Reporting
Reviewing status reports from team managers and taking appropriate actions accordingly.
Should be focal point of contact for the QA team for all the escalations related to testing and Quality assurance.
Sending crisp and clear status to the higher management.
Creating and defining risks contingencies and plans.
Seeking feedback from management when and wherever necessary.
Managing Risks
Understanding and defining areas to calculate the overall risk to the project.
Creating strategies to mitigate those risks and take necessary measures to control the risks.
Awareness to all the stake holders for the various risks
Create backup plans for all the testing strategies.
Have team meetings at appropriate time to understand & review the current risks and motivate team to resolve the same.
Process improvements
Ensure that the several testing and validation processes are improved continuously.
Motivate team to improve the efficiency so that the time saved can be used in different work areas.
Challenge the team continuously to move towards automation for all daily works
Publish the improvements to all the stakeholders and depict the improvements using data points.
Create quarterly milestones for yearly improvement projects and set deadlines for the team to complete them.
Work with the development team to ensure that the quality engineers get apt support like automation hooks or debug builds where ever and whenever possible.
Ensure several quality improvement tools like code coverage, memory leaks are part of the development cycle, in case of conflicts resolve via upper management.
Conclusion:
A Quality Head has numerous responsibilities as he has to make sure that there is no gap between quality release and quality perceived by the end user. Since in today's world quality is a sole factor which distinguishes competitive products, the test lead has a key role to play.
He has to continuously improve himself/herself and his/her team to match the new technology, testing techniques and methodologies of the market.
A good Quality team can only ensure that once a product is released it meets and matches all the quality criteria's and to build and motivate this kind of team is the core subject of the QA leader.
Each leader has it's own unique qualities. Please share the qualities you think that should have in QA leader in the comments below. It would be great if you share this article who really wants to know about what all roles and responsibilities of QA leader.
If you are not regular reader of this website then highly recommends you to Sign up for our free email newsletter!! Sign up just providing your email address below:
Happy Testing!!!